Are you an ExamSoft pro? Prove it.
ExamSoft is excited to announce the Examsoft Certification Program! Share your assessment skills with the world by earning your badges as a certified ExamSoft user. Take a look at the different certifications listed below, and select which is the best fit for you!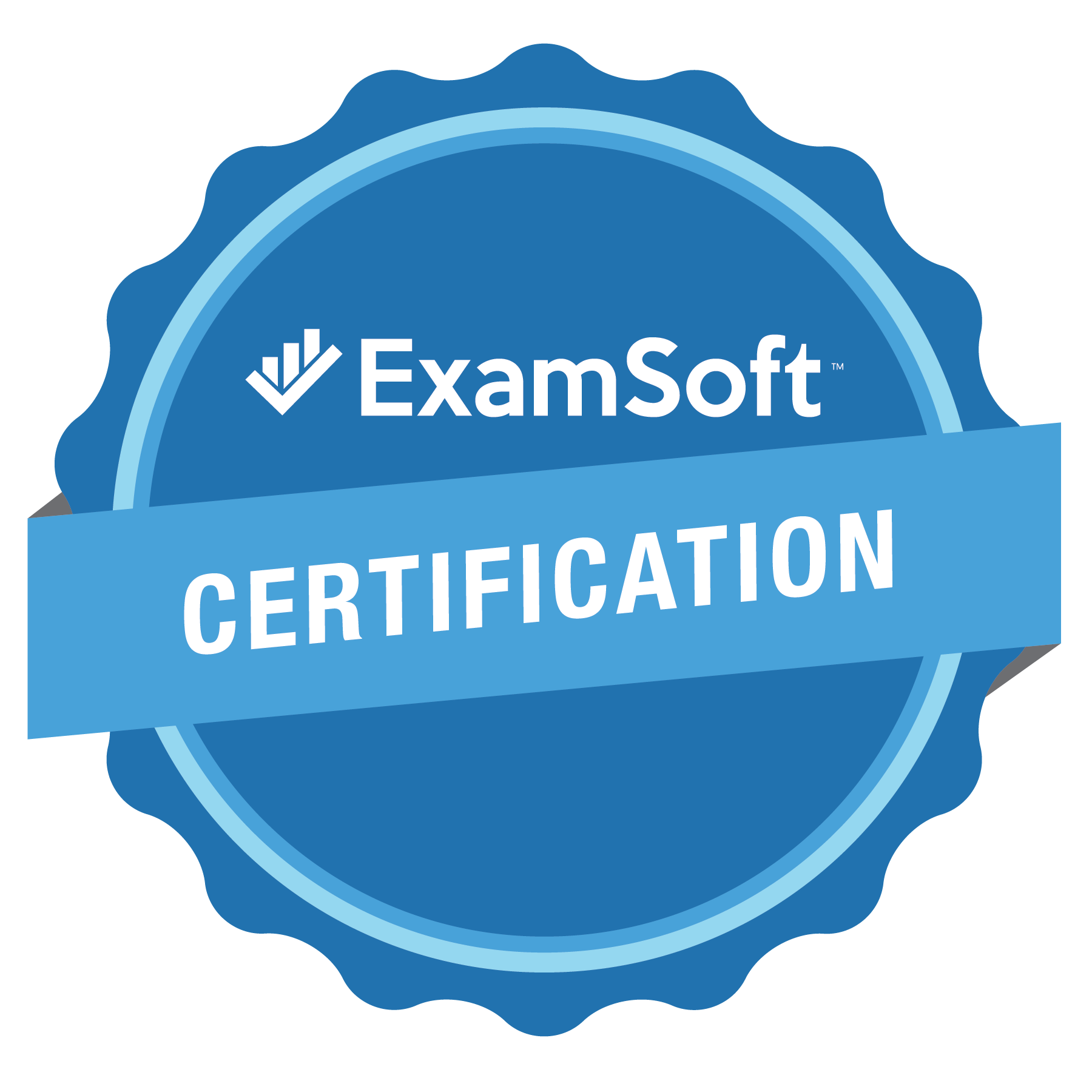 Fill out the form below to register now
The ExamSoft Certification Program
Introductory Pricing for our Certification Levels
Certification benefits
Recognition for your experience! Demonstrate you have the skills and expertise to be an ExamSoft Certified Exam Manager, Administrator, or Power User.
Contribute to your institution's success! Ensure you have all the knowledge necessary to take full advantage of ExamSoft's exam management and analytic capabilities.
Boost your resume! With over 1,000 organizations using ExamSoft, make sure your credentials reflect your industry's technological demands.
For me, ExamSoft certification is another notch in the belt. As ExamSoft grows, this certification will be especially important for technology professionals working within higher education."
Kathleen Day,
Senior Instructional Designer, Thomas Jefferson University
FAQs
Certification
Why is the ExamSoft Certification right for me?
Whether you want to better yourself professionally or just up your assessment bragging rights, the ExamSoft Certification program is a great opportunity. ExamSoft Certification is a great way to not only make sure you are learning more about how to use the software to make your job (and life) easier, but also to tangibly show your value to peers.
What are the different tracks for certification?
Basic, Administrator, Rubrics, and Power User—see above for descriptions.
How many exams does each certification track consist of?
The basic certification consists of four exams: Question Banking, Assessments, Reports & Scoring, and SofTest. The Administrator track consists of the same four exams plus an additional Administration exam. The Rubrics track consists of the four basic exams plus an additional Rubrics exam. Lastly, we have a Power User track that consists of all six exams.
Registration
What are the eligibility requirements?
Any ExamSoft user can apply for the certification exam, but we do recommend approximately one year of exam management experience using ExamSoft before attempting certification.
Can my institution sponsor my registration fee?
When can I take the exams?
Within 3 business days of completing your registration, you will receive your login credentials to download all of your exams. You will have 90 days to complete all 4-6 of your certification exams.
What is the cost?
The certification track you select will determine the cost involved (see above descriptions for specific pricing). If you are looking to become certified using the standard program it will cost $99. If at a later point you would like to add one of the additional Rubrics or Administration certifications you simply pay the additional $30. However, you can save money by bundling them all at the same time with the "ExamSoft Power User" certification.
I changed my mind and want to withdraw. Will I receive a refund?
Exams
How many questions are on each exam?
Each exam will consist of 27-30 questions.
What topics are covered in each exam?
Check out our study guides above for a detailed breakdown of all learning outcomes for each exam.
What exam prep material is available?
We encourage you to use any number of resource databases available such as the ExamSoft University and Support Knowledge Base which contain a number of guides, videos, and webinars to help you prepare for your exams. We also have created a study guide for each certification track that includes an exam blueprint, links to specific references, sample questions, and a few activities to try in the system to help you strengthen your expertise.
How are the exams administered?
How else – within Examsoft! You will be taking the exams using SofTest, the same way a student in your class would. The exams will be downloaded onto your computer so that you may take them at your convenience.
When will I receive my results?
Due to the uncertainty of when participants will turn exams in, we ask that you allow approximately 2 – 3 weeks before your results are released.
What happens if I fail one or more of the exams?
Upon receiving a failing grade, you will be able to retake your exam(s) after 30 days where we recommend you self-remediate on areas you did not perform as well on. After one year has passed, you will be required to take all exams again regardless of your previous scores.
Recertification
How often will I need to recertify to maintain my ExamSoft Certification?
Due to newness of this program as well as the constant improvements and releases being updated within our software, we plan to offer an annual certification to ensure our users are up to date with the latest improvements and features.
Are You An ExamSoft Pro? Prove It.